Spooklights in America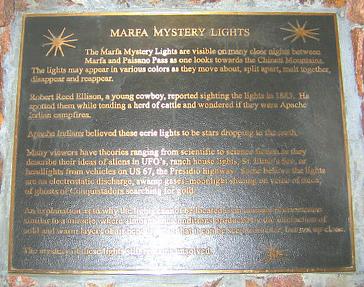 In the United States, earth lights are generally called spooklights, ghost lights, or simply named after the most local town. This page details spooklight locations in the United States and Canada.
Contents
This is a Work in Progress!
Locations
Anson Lights
Where? Anson, Texas
Names:
"Anson Lights" (1,410)
"Anson Light" (427)
"Anson Ghost-Lights" (11)
"Anson Ghost-Light" (3)
"Anson Spook-Light" (1)
Links:

http://www.sgha.net/tx/anson/anson2.html *
http://www.texasmonthly.com/mag/issues/2000-12-01/texana.php *
http://www.texasmonthly.com/mag/issues/2000-12-01/texana-2.php *
http://www.unsolvedmysteries.com/usm96.html
http://www.myufo.com/ghosts/haunted_places/haunted_texas/

Bingham Light
Where? Dillon, South Carolina
"Bingham Light" (103)
"Bingham's Light" (31)
"Bingham's Lights" (23)
"Bingham Lights" (8)
Links:

http://southcarolinaghost.tripod.com/GhostStories/id25.html *
http://www.ghosts.org/ghostlights/bingham-light.html *
[@@ where's the new page on ghostlights.org?]
http://hamerboy.blogspot.com/2005/07/binghams-lightever-heard-of-it.html *
http://www.friendsofsc.com/forums/printthread.php?t=1278 *
http://archiver.rootsweb.com/th/read/SCMARION/1999-09/0938124777
http://www.haunted-places.com/HRvol2a.htm

Brown Mountain Lights
Where? Morganton, North Carolina (also Lenoir, Crossnore)
"Brown Mountain Lights" (20,200)
"Brown Mountain Light" (9,680)
"Brown Mountain Ghost-Lights" (384)
"Brown Mountain Spook-Lights" (3)
Links:

http://www.ibiblio.org/ghosts/bmtn.html *
http://www.ibiblio.org/ghosts/bmtn_p2.html *
http://shadowboxent.brinkster.net/brownmountain2.html
http://www.westernncattractions.com/BMLights.htm *
http://www.nbc17.com/news/4439728/detail.html *
http://www.brownmountainlights.org/ *
http://www.science-frontiers.com/sf033/sf033p17.htm *
http://www.prairieghosts.com/brownmt.html *

In 2001, Joshua P. Warren and his research group, L.E.M.U.R., caught video evidence of lights at Brown Mountain, Burke County, North Carolina. On 14th June 2001, he sent me the following press release via post:
Mysterious Brown Mountain Lights Finally Caught on Video

Ashville, N.C. (June, 2001) -- The L.E.M.U.R. Paranormal Research Team, based in Asheville, North Carolina, has captured and released the first known video footage of the unexplained Brown Mountain Lights in Burke County, North Carolina. The release is in conjunction with the debut of their new web site, www.BrownMountainLights.com .

The Brown Mountain Lights are unexplained illuminations that, according to Cherokee legend, have appeared over a ridge in the Pisgah National Forest for over 800 years. They were observed and recorded in journals by German engineer Geraud de Brahm in 1771, and were first journalistically documented by the "Charlotte Observer" in 1913. The Lights were investigated numerous times by private groups and three times by the United States government, once by the Weather Service and twice by the Geological Survey. However, the phenomenon has never been satisfactorily explained. Theories based on gases, seismic activity, mirages, and ball lightning have all been debated, but none have successfully accounted for the phenomenon's unpredictability and bizarre behavior.

The Lights became most famous when Tommy Faile's song "The Legend of the Brown Mountain Light" became a bluegrass hit in the 1960s. They've been included in the works of numerous Carolina authors, such as John Harden, John Paris, and Nancy Roberts, and were most recently featured in a 1999 episode of "The X-Files" television show.

The L.E.M.U.R. Team was founded in 1995 by its current President, Joshua P. Warren, author of "Haunted Asheville" and "How to Hunt Ghosts." They observed and recorded the lights over a two-week period in November of 2000. L.E.M.U.R. Vice President Brian Irish wielded the special Infrared Night Vision camera as it captured over an hour's worth of activity.

"I believe footage of this quality is the most significant step forward in the history of researching the lights," says Warren. "By studying the video, we're targetting places on the ridge to research further. Ultimately, we hope to solve the mystery."

The team has released several minutes of their footage to the media. However, they plan to unveil more next year, when Warren and Irish will be giving a special presentation on the lights at the First Annual Paranormal Weekend at Asheville's Grove Park Inn, January 11-13 of 2002.

For more information, please visit www.BrownMountainLights.com
Saratoga Light
Bragg Road Ghost Light
Big Thicket Light
Place: Saratoga, Texas
Names:
"Saratoga Light" (3,130)
"Light of Saratoga" (1,120)
"Lights of Saratoga" (525)
"Bragg Road Ghost-Light" (494)
"Saratoga Lights" (390)
"Bragg Road Ghost-Lights" (238)
"Bragg Road Light" (131)
"Big Thicket Light" (91)
"Big Thicket Ghost-Light" (53)
"Saratoga Ghost-Lights" (48)
"Saratoga Ghost-Light" (37)
"Big Thicket Ghost-Lights" (33)
"Big Thicket Lights" (15)
"Bragg Road Lights" (7)
Links:

http://www.tsha.utexas.edu/handbook/online/articles/BB/lxb1.html *
http://www.bicyclesports.us/id131.htm *
http://www.angelfire.com/sk2/stparanormal/saratogalight.html *

http://www.ghostlights.org/node/5
http://www.anomalyarchives.org/events/050611txghostlightsconf.html

'The "Light of Saratoga" is a legend located in the Big Thicket of Southeast Texas. This legend of a mysterious light is also known as the "Ghost Road" of Saratoga, the "Saratoga Light", and "Bragg Road Ghost Light" by local residents. Located on a dirt road, it is a light that may appear and disappear at random during the dark of night without explanation.'

- Wikipedia, http://en.wikipedia.org/wiki/Light_of_Saratoga
Others
These are definite and probable spooklights that have yet to be included into the list above.
Ada Light -> Ada, Oklahoma
Blue Mountains Light -> LaGrange, Oregon
Brit Bailey's Light -> Angelton, Brazoria County, Texas
Cal's Light -> Andrews, Maryland
Chapanoke Light -> Four Mile Desert, Okisko, North Carolina
Chapel Hill Light -> Chapel Hill, Tennessee
Cogdell Light -> Cogdell, Georgia
Cohoke Light -> West Point, Virginia
Cole Mountain Light -> Moorefield, West Virginia
Cove City Light -> Cove City, North Carolina
Crossett Light -> Crossett, Arkansas
Devil's Racetrack Light -> Near Diamond Grove, North Carolina
Diablo Valley Mystery Lights -> Diablo Valley, California
Dog Meadow Light -> Eagle River, Wisconcin
Dover Light -> Dover, Arkansas
El Dorado Springs Light -> Blackjack, Missouri
Elsey's Light -> Crisfield, Maryland
Ephriam's Light -> Seaboard, Northampton County, North Carolina
Esperanza Creek Light -> La Salle and McMullen Counties, Texas
Fargo Light -> Cass County, North Dakota
Gonzales Lights -> Gonzales, Louisiana
Grosse Tete Lights -> Grosse Tete, Louisiana
Gurdon Ghost Light -> Gurdon, Arkansas
Haldeman Light -> Haldeman, Kentucky
Hansell Light -> Bucks County, Pennsylvania
Hebron Light -> Hebron, Maryland
Hookerman Light -> Morris County, New Jersey
Hornet Spook Light -> Joplin, Missouri
Iliamna Lights -> Lake Iliamna, Alaska
Illinois Central Light -> Beauregard, Mississippi
Kalispell Light -> Kalispell, Montana
Kenton Lights -> Near Kenton, Oklahoma
Land's End Light -> Beaufort County, South Carolina
Leon River Light -> Leon River, Bell County, Texas
Loudenville Light -> Loudenville, Ohio
Lufkin Railroad Light -> Lufkin, Angelino County, Texas
Maco Station Light -> Wilmington, North Carolina
Maple Lake Light -> Willow Springs, Illinois
Marfa Lights -> Marfa, Texas
McDermott Light -> McDermott, Nevada
Mintz Light -> Near Clinton and Roseboro, North Carolina
Moody Light -> Francisville, Indiana
Old Brewery Hill Light -> Le Sueur, Minnesota
Ontario Lights -> Ontario, Canada
Oriflame Mountain Lights -> Butterfield Stage Road, near Julian, California
Oviedo Lights -> Oviedo, Florida
Oxford Light -> Oxford, Ohio
Paulding Light -> Watersmeet, Michigan
Phantom Light of Ringold -> Ringold, Washington. Near Pasco
Raynham Spook Lights -> Raynham, Massachusetts
Sand Springs Light -> Sand Springs, Oklahoma
Screven Lights -> Milligan's Crossing, Screven, Georgia
Scugog Light -> Scugog, Ontario
Senath Light -> Senath, Missouri
Silver Cliff Cemetery Lights -> Silver Cliff, Colorado
Skinwalker Ranch? -> Utah
St. Joseph's Catholic Church -> Jersey City, NJ
St. Louis Light -> St. Louis, Saskatchewan
Suffolk Light -> Jackson Road, Suffolk, Virginia
Summerville Light -> Summerville, South Carolina
Surrency Light -> Surrency, Georgia
Taos Lights -> Sangre de Cristo Mountains, Taos, New Mexico
Vander Light -> Vander, Cumberland County, North Carolina
Vernon Ghost Light -> Vernon, Alabama
Waimea Lights -> Parker Ranch, Hawaii
Warrenburg Ghost Lights -> Warrenburg, New York
Sean B. Palmer