Sean B. Palmer
I'm an early modern historian with a background in computer science.
Send email to sean@miscoranda.com, or tweet me. You can also check out my Github profile, or buy me useful things on Amazon. I'm based in the United Kingdom.
About me
Technology
I was a founder in the first round of YC startups, 2005, with Aaron Swartz and Simon Carstensen. I'm taking care of Aaron's sites and data, so email me if you have any queries about that.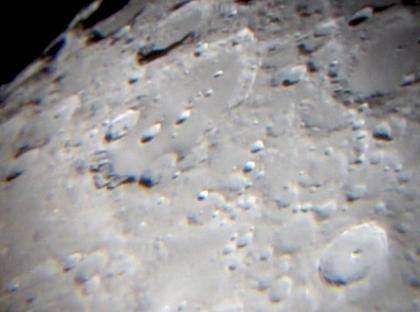 Astrophotograph of Clavius and Tycho. May 2011, Canon SX220, 6" newtonian, Plössl 7.5mm lens.
I wrote a rich web editor in CoffeeScript called Octavo, and ported a 6502 CPU simulation to RPython. I'm interested in the cognitive science of ADTs, and the tension between programming language and linguistics.
I'm most well known for my phenny irc bot, which I'm writing a replacement for. I've also written books and magazine articles on HTML, CSS, and JavaScript.
Music
I play 6-string electric guitar well, in no specific style. I'm just really in love with the Stratocaster. I use D'Addario strings, and have a Marshall amp though I tend to virtualise now using AmpliTube 3 and an SM57 mic for acoustic tones. The Le456 amp is pretty good too. I'm working on some string skipping techniques to play interesting arpeggios.
Other interests
Collecting and analysing anecdotal evidence of ignes fatui; trying to decipher the Voynich manuscript with computational linguistics; reading Sappho and the Silmarillion; investigating early Gnostic and proto-Catholic Christianity; searching for Herobrine.
Some years ago I developed an independent proof of the Pythagorean theorem. Once I rode a horse into my neighbour's garden, quite surprising my neighbour.
Page updated 15 April 2013